PAY PER CLICK MARKETING/MANAGEMENT
Presence in the digital market is becoming necessary for any business, as customers are searching the digital market for products and services. The use of pay per click advertising and marketing is an effective way to generate traffic within a budget in the short period of the time. The use of pay per click strategy is the fastest way to gain search engine visibility. The per- pay click is an internet advertising campaign in which the traffic is diverted to the website and the advertiser has to pay the publisher when an ad is clicked.
Through the use of PPC, we help our clients to get maximum return on investment in advertisement and campaigns. The campaign of the client is managed by the team of professionals, who is in touch with the client. Our services help the client to get the guaranteed exposure to generate relevant traffic to the site. Our PPC strategy helps us to generate more sales, qualified leads and reduce dead leads. The PPC strategy is modified to suit the industry competition the client is facing.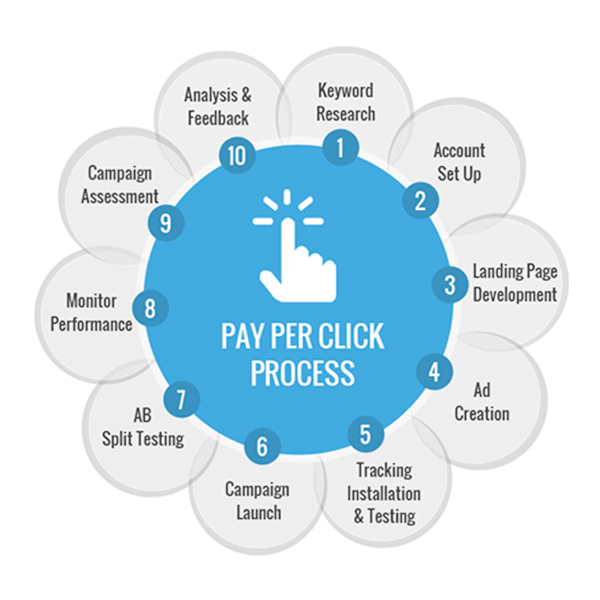 Our PPC strategy includes defines the business target, goals and achieves and delivered the same to the client. We provide details related to ad copy, landing page suggestion and recommended campaigning budget. Our experts assess the performance of the campaign and maintain the record of short and long-term goals. We also execute the landing page recommendations according to the per pay click strategy. Our editing of the running campaign as per the PPC plan keeps the entire campaign on target. We keep track of the page load time and ensure the implementation of converted tracking for the landing pages.
And finally, we regular and modify the campaign according to the performance of the target keyword or keywords, ad copy and landing page. Our experts also change the bids; manage landing page and ads, all on the performance level. All this is done to keep our client on par with the latest trends in the market. The client is provided the regular report with targets achieved and plans for the next month or fortnight.